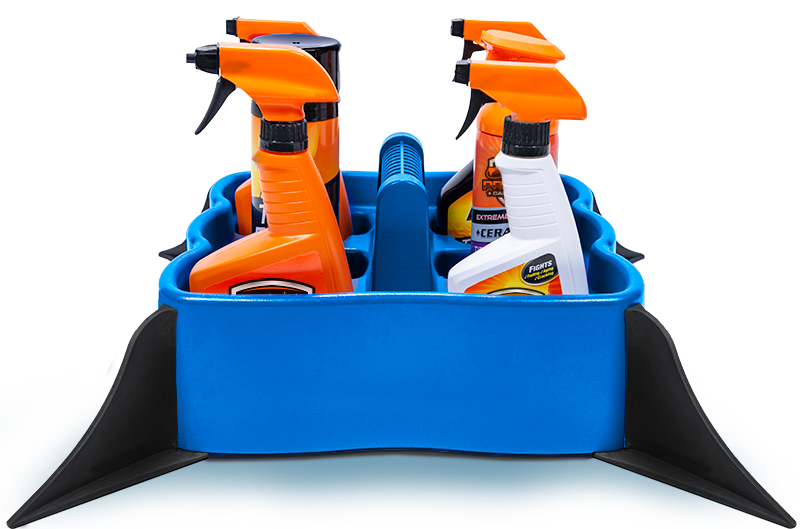 THE ULTIMATE DETAILING CADDY

Meet the Spill Spoiler, your one-stop car cleaning caddy that fits most of the car care and cleaning products you could ever need. Our revolutionary design means not only can you keep all of your car care and cleaning supplies in one place for easy use and access, but you can also rest assured that its unique design means no more spills, slips, scuffs, stains, or messes when you're taking care of what matters most to you. It's why we promise All Thrills, No Spills each and every time you use it.

THE REVIEWS ARE POURING IN!

I saw the article that was written in the Forum and purchased it for my Grandson for his birthday!! I was impressed with the design and the function!! We are all aware of how easy it is for things to spill, even when the cap is supposedly on tight!
– Adele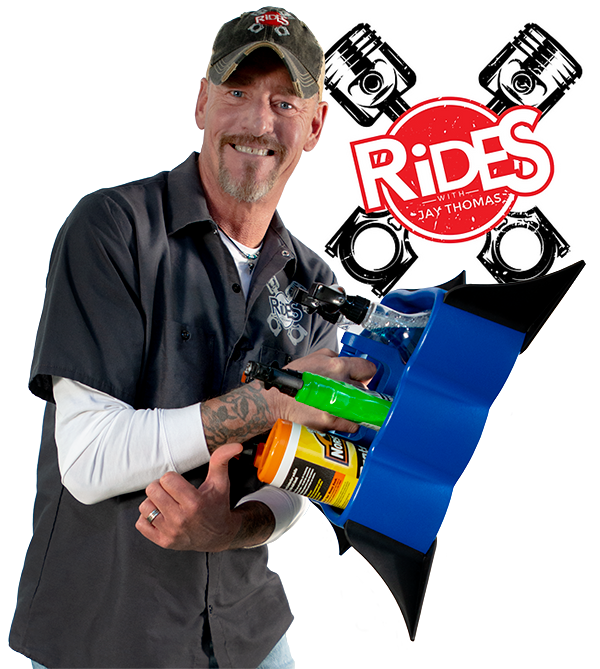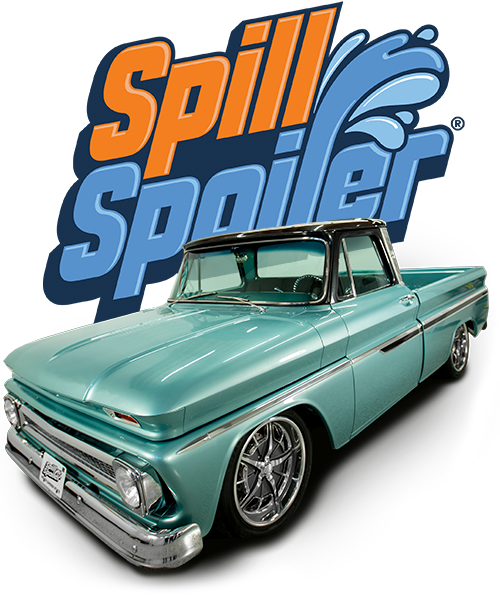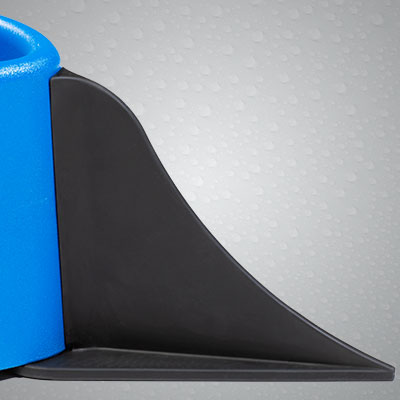 Non-slip Rubber Feet
We designed Spill Spoiler so you can set it right where you need it without worrying about scratches, damages, or slippage. Spill Spoiler stays in place and keeps your work surfaces pristine. The "footprint" of the caddy can be customized with one or more of the removable rubber feet.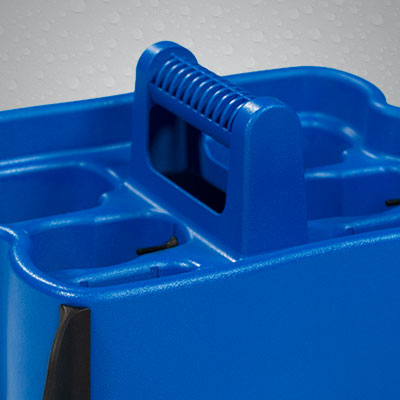 Ergonomic Handle
Spill Spoiler helps you get a grip on things with its specially designed ergonomic handle. It's comfortable to hold and easy to carry meaning whether it's in your hands or on top of your hood, costly, messy slippage is one problem you never need to worry about!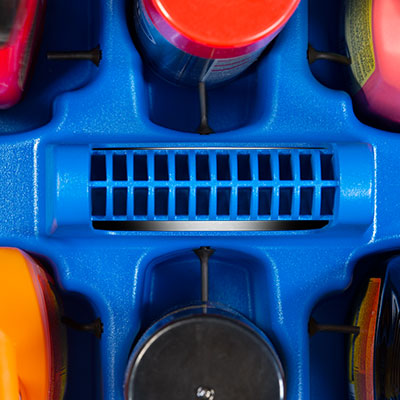 Rubber Bumpers
The Spill Spoiler rubber bumpers allow your products to neatly nest within the cleaner carrier, these bumpers hold products in place while in transit, so you never have to worry about your cleaners tipping and spilling in the back of your trunk.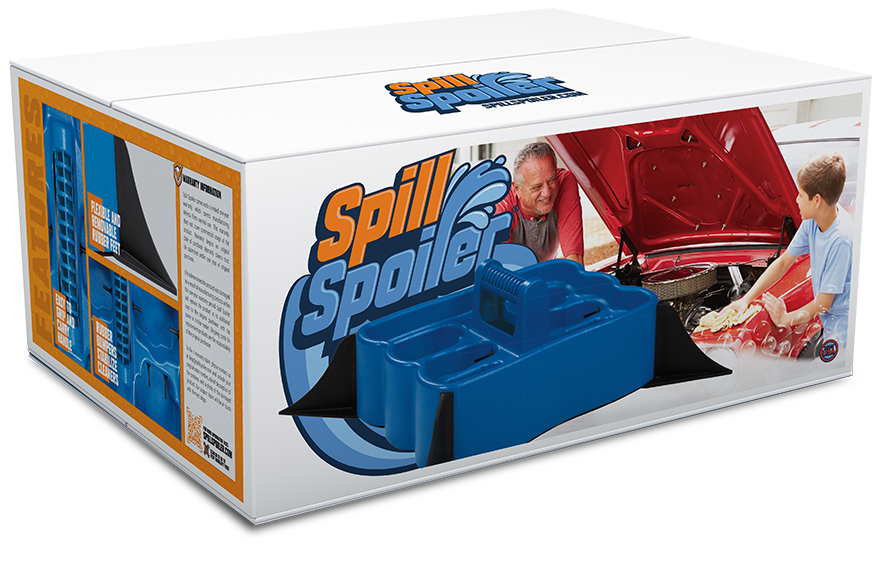 OUR PLEDGE
Spill Spoiler understands the importance of giving back to our community and supporting people in crisis, and because of that, a portion of every sale supports the 988 Suicide & Crisis Lifeline and DAV (Disabled American Veterans).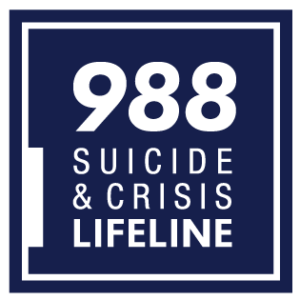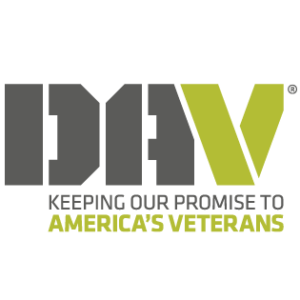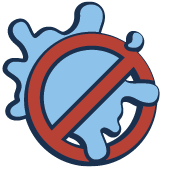 NO SPILLS
Our patented low center of gravity design means the Spill Spoiler will stay in place no matter where you set it. From the hood of your car to the back of your trunk and everywhere in between, you can rest easy knowing your cleaning products will stay upright and secure when placed inside the Spill Spoiler.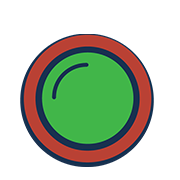 ALL THRILLS
Taking care of your vehicle can be a cumbersome experience. Forget those old pails that don't keep your car cleaning and care products secure or organized. The Spill Spoiler keeps them upright and locked in place, meaning you can focus on what really matters, hitting the road.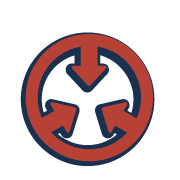 ADAPTABLE
We created Spill Spoiler to fit the vast majority of the most popular car care and cleaning products on the market today. Its six slots safely secure waxes, polishes, cleaning solutions, and more with our innovative product slots and rubber grips that conform to each product's unique dimensions. Each compartment has two designs to fit the various sizes of the most popular cleaning products.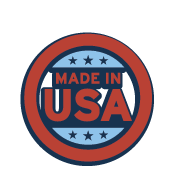 MADE IN THE USA
We've built the Spill Spoiler to last. We're proud to make Spill Spoiler right here in the USA using only the best materials. It's made with polypropylene that's lightweight and will not break. The rubber stabilizers are made from Thermoplastic 73 Durometer rubber used specifically for the automotive industry.
One-Year Limited Warranty!
Spill Spoiler comes with a one-year limited warranty. Returns are accepted 30-days from the original purchase date. For more information, please visit our Warranty and Return page.